© 2014 Robert McKercher. All rights reserved.


or Thinking WAY Too Much about How I'd Tackle an Imaginary Job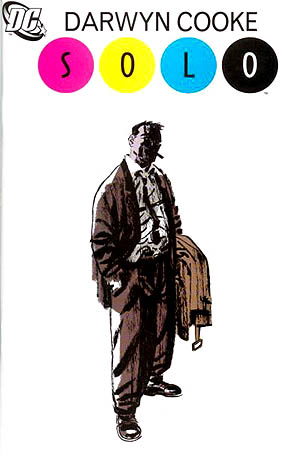 Solo #5 by Darwyn Cooke. All rights reserved by DC Comics.

I loved the "Solo" series DC published a few years ago, and I often think about what artists I would approach to participate if DC asked me to edit a revival of the title.

For the unfamiliar, "
Solo
" was an anthology series published by DC Comics from 2004-2006. Each ad-free, 48-page issue spotlighted the work of a different artist who was encouraged to tell stories in any genre and to use DC's library of characters as they saw fit. Some of the artists also wrote all of the stories in their issues; others collaborated with writers, but they all were allowed to indulge their story-telling sensibilities using well-known characters and concepts in a way that would be unlikely in a traditional assignment.
Edited by Mark Chiarello (also responsible for the equally excellent Batman: Black & White and Wednesday Comics), Solo was stylish, innovative, eclectic, and fun. Chiarello resisted just filling the series just with fan favorites or superstar veterans. He also enlisted an underground comics legend, rising stars, independent comics stalwarts, a cartoonist, and a graffiti artist.

The twelve published issues of the series featured

1. Tim Sale

2. Richard Corben

3. Paul Pope

4. Howard Chaykin

5. Darwyn Cooke

6. Jordi Bernet

  7. Mike Allred

  8. Teddy Kristiansen

  9. Scott Hampton

10. Damion Scott

11. Segio Aragones

12. Brendan McCarthy

When I compiled the list of artists for my imaginary editing job, I set some parameters. Firstly, to maintain the eclectic spirit of the original run, I consciously avoided stacking the deck with mainstream, super-hero comic artists. Secondly, I gave preference to writer/artists. Thirdly, I tried to exclude artists who were already intimately associated with DC and its properties. Some of the creators who didn't make the cut because of these criteria were Jim Lee, George Perez, Jose Louis Garcia Lopez, Bernie Wrightson, Jeff Lemire, and Fiona Staples.

Also, before the book was cancelled, DC apparently discussed the possibility of future issues by Brian Bolland, John Cassaday, Dave Gibbons, Adam Hughes, Kevin Maguire, Tony Harris, J. G. Jones, Kevin Nowlan, Bill Sienkiewicz, Walt Simonson, Jill Thompson, Brian Stelfreeze, Bruce Timm, John Van Fleet, George Pratt, and Matt Wagner. So, I decided to exclude those artists as well.

Here's my final list, in no particular order: